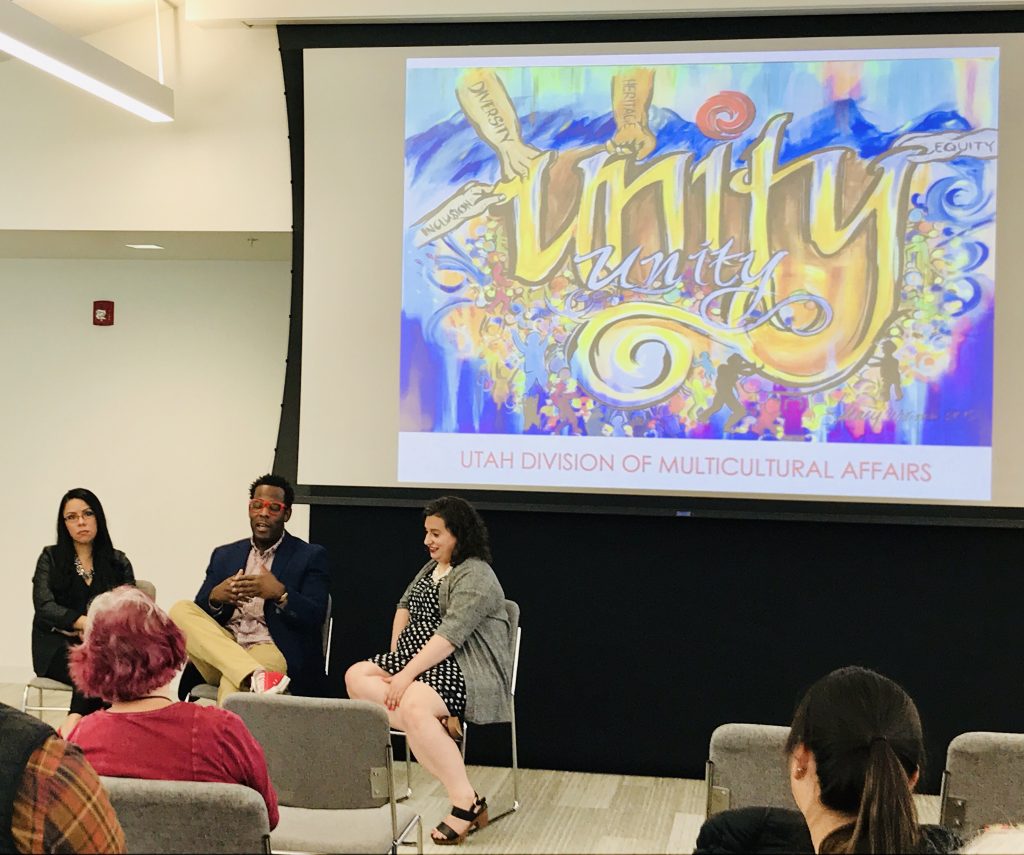 We know the vibrant art scene in greater Park City educates and inspires. Events like the annual Latino Arts Fest suggest the arts can play a lead role in the community's growing commitment to becoming more equitable and inclusive. How can local artists and arts organizations further accelerate that effect?
The arts – music, film, photography, dance, literature, paint and other media – increase our empathy and awareness of the wider world, bring us together and spark our passions.
On Feb. 14, a panel of experts examined the concept of art-as-platform, discussing the role of the arts in fostering diversity, equity and inclusion, during the Park City-Summit County Arts Council's Quarterly Convening. These community convenings are designed to help the public learn about Project ABC, which stands for arts, beauty and culture, and which is building a roadmap for the future of arts in Summit County.
The event, held at the Park City Christian Center, highlighted examples and insights from three Utahns working in the arts: Shandra Benito, Director of Art Access in Salt Lake City;
Amir Jackson, Founder and Director of Nurture the Creative Mind in Ogden; and Nubia Peña, Director of the Utah Division of Multicultural Affairs. 
Diego Zegarra, social equity director at Park City Community Foundation, which sponsored the event, began by discussing why social equity is central to the city's strategic plan. Parkites overwhelmingly identify affordable housing, education opportunities and inclusion as among the city's most urgent problems. Those problems won't be solved without the input of those most directly affected, he said.
Building social equity means bringing diverse voices to the decision-making table. "We work more effectively when we are all there," Zegarra said.
The three panelists illustrated why diversity, equity, inclusion and access to the arts are crucial – and what they look like in practice.
Jackson cautioned against "lip service," saying that if diverse voices are invited to the table but not given power to speak and decide, that's a fail.
"If a board isn't diverse, add some chairs," Jackson said. "Equity is getting out of your seat [to make way for others]. The goal is to share power with other individuals."
As an example of that principle in action, he highlighted his organization's recent work with Ogden's Hispanic residents in planning a Dia de los Muertos celebration. Rather than the "let's do this for them" approach, he assembled an advisory group to drive decision-making, with the understanding that after the inaugural event, the resident group would assume management of future celebrations. "Objective over ego," he said.
Benito communicated using SimCom, also known as sign supported speech, which is speaking and using sign language simultaneously. She highlighted the importance of including disabled people, who comprise 25 % of the entire population, in expanding diversity, equity and inclusion in the arts.
And she urged the audience to consider another element of social equity: Justice.
She pointed out that disabilities manifest differently in various cultures, and said Utah lags behind other states in access to the arts for the disabled.
"We need to move beyond getting everyone access to what we already have, because what we already have is a broken system for a lot of people," she said.
Pena, a national consultant on the school-to-prison pipeline, discussed her department's work and the value of building connections intentionally because of – not in spite of – differences.
She urged leaders of businesses, nonprofits and other institutions to "lead with inclusion" and pointed out that doing so confers benefits beyond the obvious.
"Reframing priorities to support inclusion is crucial for state economy," she said, citing statistics around increased productivity in more diverse workplaces and the importance of diversity in attracting workers. But also, "How are we missing out when we fail to commune with others who are not like us?"
The arts can be a platform to further a community's goals. The discussions, and a q and a session between speakers and the audience of about 50, considered how to integrate diversity, equity and inclusion into arts organizations' practices, and how philanthropy can contribute.
In the realm of philanthropy, Zegarra recommended setting measurable goals, helping donors connect with less familiar organizations, and committing to collective action. He cited the statistic of 60 % of arts funding going to 2 % of US organizations as one example of inequitable access.
"This work is forever work," said Jake McIntyre, program director of Project ABC, introducing the speakers. "This is not work that we solve."
The PCSC Arts Council hosts quarterly Community Convenings to further the goals of its Project ABC Cultural Plan. Please visit ProjectABCsc.com for more information.
By Michelle Deininger for Park City Community Foundation