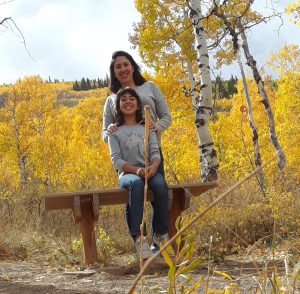 With a variety of professional backgrounds, including private business executives in and outside of Park City, financial professionals, civic leaders, and community activists, our Board of Directors ensure that Park City Community Foundation remains a well-governed, fiscally sound and highly effective organization. We are very excited to have Maureen Saborio join our Board of Directors. Maureen has great passion and knowledge of early childhood education and will also be serving on our Social Equity Advisory Committee.
Q: Tell us about yourself.
A: After moving from Costa Rica in 2002, I immediately fell in love with the small but diverse community of Park City. In my 16 years as a Park City resident, I have dedicated much of my time to volunteering. Holy Cross Ministries, Christian Center, and Peace House are a few of the nonprofit organizations that I have become deeply involved with. My professional work includes medical coding and billing, childcare provider, and now Office Manager at Mountain Top Physical Therapy. I earned a Customs Administration degree in 2002 and my passions include skiing, hiking, enjoying nature, and spending time with my daughter.
Q: What brought you to Park City?
A: After watching the 2002 Olympics I decided to come to Park City on a work and travel program as a way to expand my horizons. The mountains, people, and sense of community drew me in. This really is a special place to work, live and raise a daughter.
Q: Why did you decide to join our Board of Directors?
A: I decided to join your Board of Directors for several reasons. As a Latino, this is a great opportunity for me to bring a voice to the table that is under-represented. I look forward to working hard and to addressing important and systemic issues that people in our town face every day. I want to show that I am here to help and to enact positive change.
Q: How are you able to fit giving into your life here?
A: I started volunteering with Peace House support groups years ago. I serve whenever I have the opportunity and am also involved with programs at Holy Cross Ministries and the Christian Center. Most recently I volunteered with Christian Center Back 2 School Basics and Operation Hope programs. Making time to give back is very important to me.
Q: What do you love about Park City Community Foundation?
A: I love how the Community Foundation brings unique nonprofits with similar goals together to achieve a directive. The sharing of information and ideas between organizations, people, and government make Park City a special place to live and give and Park City Community Foundation is at the center of it all.
Q: How would you spend your perfect Park City Day?
A: My perfect day would involve hiking, reading a book by the lake (science fiction), going for a walk down prospector trail, followed by meeting friends at Sabor Latino for dinner. I try to make the most of our accessibility to the outdoors. My best days are spent with my 10-year-old daughter Mackenzie.