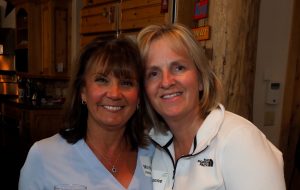 By working with highly experienced financial advisors who govern our investment process, procedures, and strategies, Park City Community Foundation ensures a steady stream of growing, spendable revenue. With solid financial footing, the Community Foundation can remain focused on supporting the needs of the community we love.
We are thrilled to welcome Mindy Halsey to the Park City Community Foundation Board of Directors. Mindy moved her family to Park City in 2006 and has been an active member of our community ever since, donating much of her time to local nonprofits. She has served on the Development Committee at the Community Foundation and on the Park City Education Foundation Board of Directors. Her professional career included working at the European-American Bank, JP Morgan Bank, and as a Principal at Morgan Stanley.
Q: Tell us about yourself.
A: I grew up in the Philadelphia suburbs, went to college on the east coast, and started my career in New York City. My husband (John) and I both worked on Wall Street. We started a family in the suburbs of New York City in New Canaan, Connecticut. Throughout our careers, we visited Park City numerous times for personal and business trips. After exploring many options to live in the west, our family moved to Park City in 2006. Park City has the best combination of excellent schools, world-class skiing, fantastic outdoor opportunities, along with an amazing airport. Our three boys, who were in elementary school at the time of our move, have all graduated from Park City High School and are attending colleges in the west. My husband and I are both active people that enjoy the arts, travel, and our many and ever-expanding group of friends.
Q: Why do you think Park City is a unique place to live and give?
A: Not only is Park City a wonderful place to live and to enjoy the outdoors, it is also an amazing community. But it is a community with deep needs. Park City has an incredible array of well-run nonprofits, making it easy to give time and/or resources. We live close to PC MARC, which was known as the Racquet Club when we moved here. John joined the Recreation Advisory Board and was instrumental in orchestrating the renovation of the building. Many in our community, including visitors, come to work out and play tennis at the facility. I became active in our local schools and subsequently joined the Park City Education Foundation Board. I am now fortunate to serve on the Park City Community Foundation's Board, having been on their Development Committee for nearly two years.
Q: How do you fit giving into your life here?
A: Participating in local nonprofits is a regular part of my schedule. When our boys were in the school system here, I volunteered at their schools and at the Park City Education Foundation. Having worked first-hand with the schools it was easy to see the need for additional funding to support vital programs. After spending roughly 10 years on the Park City Education Foundation's Board, I felt it was time to participate in another nonprofit that directly addresses the needs of our community, the Community Foundation. We enjoy participating in the Crest Speaker Series and the company of other concerned donors.
Q: How would you spend your perfect Park City day?
A: One could argue that every day is perfect in Park City! I try and most often succeed in fitting several activities into a day. I enjoy tennis, hiking, mountain biking, classes at the MARC, particularly spin and yoga, skiing (of course!), playing golf and the wonderful film and music scene. Many great days celebrate our students, athletes, and the many accomplished members of our community. Every day is a chance to enjoy the outdoors and remember how fortunate we are to live in Park City.
Q: What is it about Park City Community Foundation that you love?
A: After working with Katie Wright (Community Foundation Executive Director) on a school grant committee and enjoying our many conversations centered around community needs, my involvement with the Community Foundation began when we bought our Community Pass! We really love the many golf courses and ski passes offered, as well as the friends made from joining the Community Pass Club. The Community Foundation has a wonderful, hard-working staff, committed volunteers, and an expanding, awesome donor group. Through our participation in the Community Pass Club, we know we are helping to sustain the Community Foundation's grant programs and important initiatives. So much to love!