Live PC Give PC is a 24-hour day of giving and an extraordinary opportunity to support the local nonprofit organizations that help to make Park City a special place to live and work. Every November, Live PC Give PC brings our community together for a day of extreme generosity. With everyone in the community giving whatever they can, we've raised millions of dollars for Park City nonprofits. In 2017, Live PC Give PC raised donations from over 4,000 individuals who gave over $2,000,000.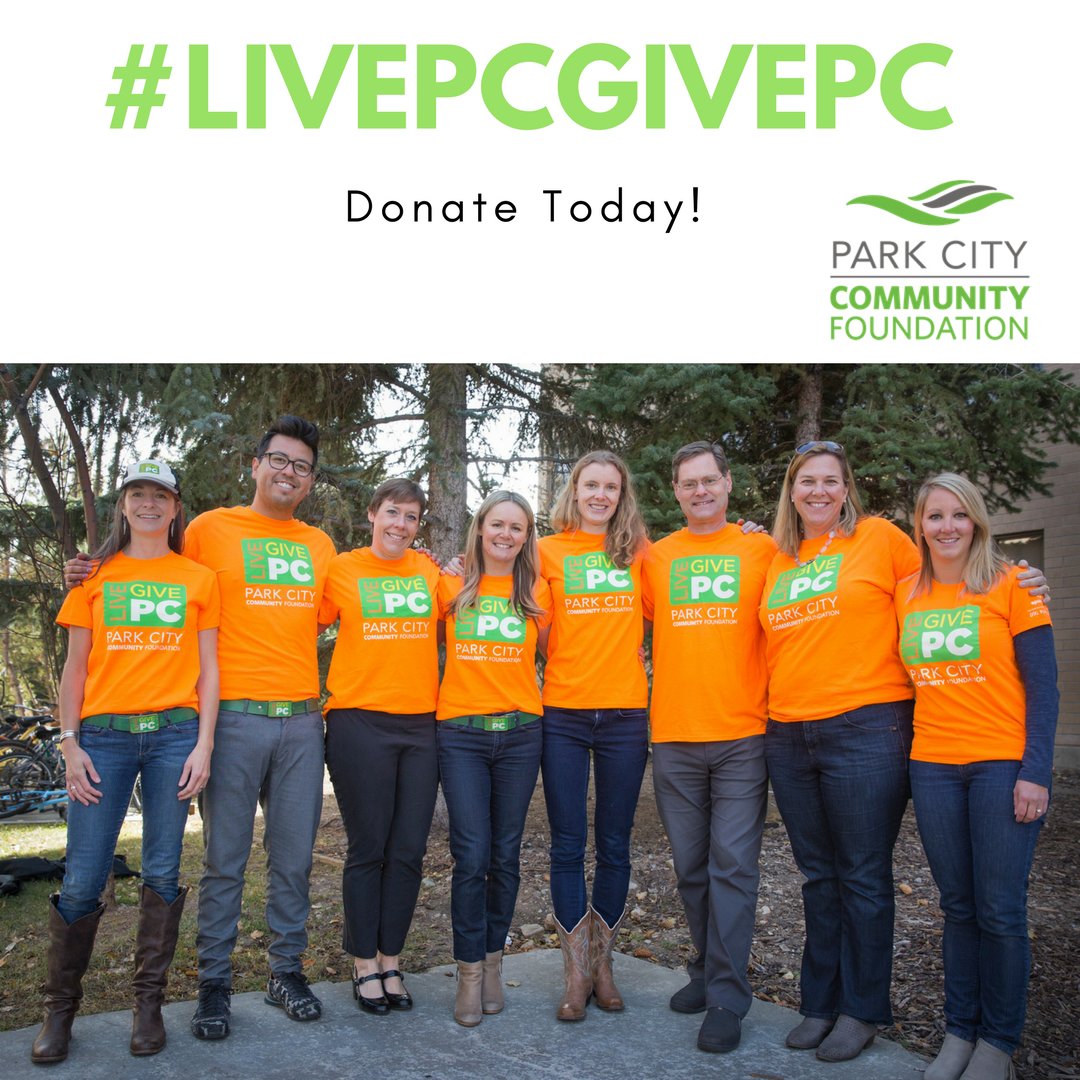 Nonprofit organizations are the core of Park City's health and well-being. When they thrive, so does our community. Live PC Give PC empowers individuals who have a connection to Park City to become involved in our philanthropic community. As the organizer of Live PC Give PC, Park City Community Foundation builds broad engagement and diverse support to create wide community impact. Your donation makes this possible.
You can double your generosity! If you donate to Park City Community Foundation from now through Live PC Give PC on Friday, November 9th, your gift will be matched by our board and other generous donors.
Live PC Give PC Leaderboards
On November 9, 2018, make a real impact and help your favorite organizations win matching grants and prizes. With the support of generous sponsors, Park City Community Foundation and Live PC Give PC are offering prizes to nonprofits who have the most unique donors giving to this year's event.
Vail Resorts EpicPromise and Park City Mountain are sponsoring the 2018 All Nonprofits Leaderboard. Their promise is to bring together the mountains, communities, employees, and guests to ignite a passion for the outdoors, conserve the natural environment and support our local communities for a bright, sustainable future.
Thanks to Vail Resorts EpicPromise and Park City Mountain, the nonprofit with the most unique donors will receive an extra $2,500, second will receive $1,500, and $1,250 for third place. Thank you Vail Resorts EpicPromise and Park City Mountain for supporting Park City and everything that you do to strengthen our community through giving!
There are five other leaderboards where nonprofits can compete to win. Leaderboard prizes will be awarded based on the total number of unique donors making at least one online gift via the Live PC Give PC 2018 platform. Organizations listed on leaderboards may only win one leaderboard prize, for a total of 18 nonprofits winning a prize. We would like to thank Intermountain Park City Hospital who will be sponsoring the "Caring for Each Other" leaderboard; Andeavor Foundation for supporting the "Protecting Where We Play Leaderboard"; and GBS Benefits for sponsoring the "Sparking Minds" leaderboard.
Live PC Give PC is on Friday, November 9th. Park City Community Foundation welcomes you to explore the list of participating nonprofits on the Live PC Give PC website to learn more about the many organizations having a positive impact in Park City, and to find a nonprofit whose mission you believe in.
Live PC Give PC Sponsors
In addition to the generosity of thousands of individuals, many businesses have chosen to sponsor Live PC Give PC, including a few international businesses that started right here in Park City!
High West Distillery, once a small operation in Park City, is now an internationally recognized brand serving whiskey all over the world. Big cheers to High West Distillery, one of our Apex Sponsors for Live PC Give PC 2018. Raise a glass and join us in thanking High West for their generous support of our beloved nonprofits! And, cheers to you for supporting this incredible day of giving on November 9th. We hope that you will join us to celebrate at High West at 8pm.
Surefoot started in a small shop near Park City Mountain Resort over 25 years ago, specializing in custom ski boots and orthotics. They currently operate 26 stores in 6 countries, including three right here in Park City! Surefoot is sponsoring the Live PC Give PC event on a Vista level this year. We wanted to give a shout out to Surefoot for being one of our Vista Sponsors for this year's Live PC Give PC. We are so grateful for the good work they do in our community.
We would like to thank both of these generous businesses, among dozens of others, for supporting Live PC Give PC and Park City Community Foundation's efforts to create a more supportive and connected community. Here is a list of all of our sponsors that help make this day possible:
Presenting Sponsor
Apex Sponsors
Summit Sponsors
Crest Sponsors
Barbara Zimonja and Richard Pack
Bradley Olch
Peter and Mary Wright
Phyllis and Brooks Robinson
Elevated Building
Michael and Erin Ruzek
Vista Sponsors
Bob and Susan Richer
Ed Robinson