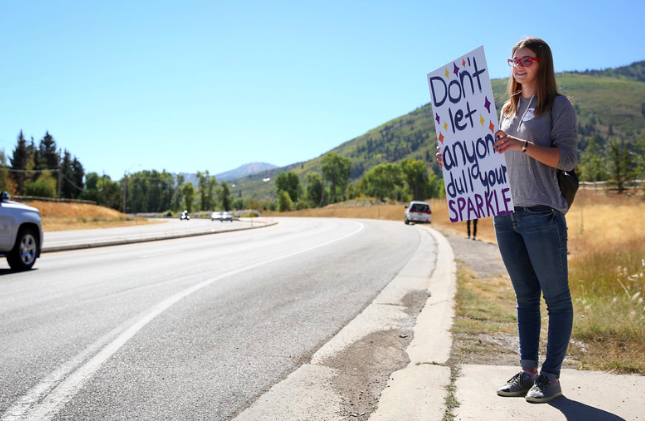 The nine-member Women's Giving Fund Grants Committee is comprised of women and girls who are Women's Giving Fund members. They have a staggered two-year term and the committee strives for diversity of age, experience, and other factors. Maya Levine is our youngest grants committee member and she is entering the second year of her term. The Women's Giving Fund makes one high-impact grant per year, and the Grants Committee plays a key role in identifying the most promising applicants for the annual grant.
Q: Tell us about yourself.
A: I just started my senior year at Park City High School. I'm a pretty normal teenager. I love spending time with my younger brother and my parents. We have such a good time doing active things, going to my brother's baseball games and just sitting around the table and talking. We could talk for hours. We just bounce ideas off of each other and talk about everything. One thing that has really made an impact on me in the last year is my Social Change class at the high school. I've learned a lot about social justice and human rights. I've learned about how to look at and discuss social issues with the use of science. It's been really interesting.
Q: Tell us about your experience on the Women's Giving Fund Grants Committee.
A: My mom and I joined the Women's Giving Fund when it was founded in 2014. We both really wanted to be a part of it and we were excited to be a part of the circle of women. Last year, my journalism advisor, Liza Greene, suggested that I apply to be a part of the grants committee. She thought that it was important to have someone that was in high school have a voice on the grants committee. She knew that I would be interested in this type of work. I'm so glad that she approached me. Being on the grants committee has really built my confidence. Because of my busy schedule, it has been difficult to attend all of the meetings but it is so worth it to know that you were part of the process. I've been so inspired to know that I've helped make a difference in our community.
Q: Tell us about your work with nonprofits in Park City.
A: I'm really involved with three nonprofits at the moment. One is Voterise which was founded by Dick and Elsa Gary. They asked me to be on the youth board which has been an amazing experience. I'm so passionate about volunteering with this organization because voting is one of the most important things a person can do. The organization goes out of its way to register underrepresented communities which I think is incredibly important. The mission of Voterise is to register young people between the ages of 18-29 to vote.
I'm also a member of Planned Parenthood's Teen Council. Through Teen Council we are trained as Peer Educators to talk to our peers about healthy relationships and reproductive and sexual health. I'm a new member this year but I wanted to be around the people that are on Teen Council. They are all super compassionate, caring, and empathetic.
The third organization that I'm involved with is Communities that Care. The youth portion is led by Mary Christa Smith. The most powerful experience has been having the opportunity to speak on panels. We worked with CONNECT and got to speak at "Ask Me Anything" where teens tell parents what really goes on in their lives. It is so powerful to see the parents show up and want to help make change for their kids. I believe that the work that we have done has truly created a community to start to destigmatize the conversation around mental health.
Q: Describe your perfect Park City day.
A: I think my perfect day in Park City would be in early fall when all of the trees are bright red, orange, and yellow. I would spend it going on a hike through Iron Canyon with my family. Afterwards we would go and eat lunch with them at Five5eeds. I love Five5eeds!!
Q: What is it about Park City Community Foundation that you love?
A: A lot of people want to make a change but they don't know how to get started. I love that the Community Foundation shows people what they can do and how they can do it. They serve as an umbrella for a lot of nonprofits so that people can learn more and get involved.