Park City Community Foundation is proud to announce the launch of the Park City Giving Guide, a new publication aimed at connecting residents with nonprofits in the greater Park City area.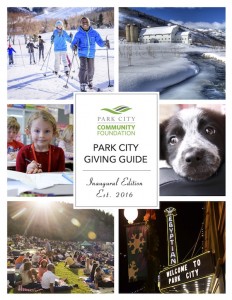 The Giving Guide provides donors with an easy, accessible vehicle to support compelling causes that greatly benefit the community.
So much of what we all love about Park City is made possible by hard-working nonprofit organizations. Park City Community Foundation supports grants, education and initiatives—such as Live PC Give PC and now the Park City Giving Guide—that enable all our local nonprofits to make Park City even better.
Our goal with the inaugural Giving Guide is to connect you to organizations that share your passions. The organizations featured in the guide were chosen because of the positive impact they have in Park City, the solid governance and financial sustainability they demonstrate, and the contribution they make to the social fabric of our community. They were chosen because they serve you and your community.
We're grateful to all who give to Park City—a community that gives so much to each of us. We hope you'll join us in giving to and supporting Park City nonprofit organizations.
We are very grateful to Park City Giving Guide Founding Supporters Kathy and Tom Raffa and the Park City Board of REALTORS®, as well as to Park City Medical Center for their additional support.