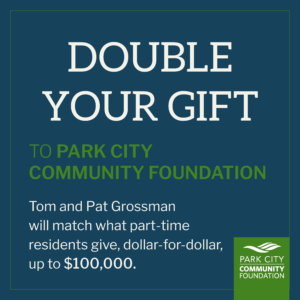 Tom and Pat Grossman have generously offered a $100,000 match to part-time residents that will double donations to the Community Foundation!
Park City Community Foundation is a critical problem solver and a trusted resource for part-time residents to support the local nonprofit community. Please join the Grossmans to engage in transformational philanthropic support in greater Park City.
Tom and Pat are deeply involved in philanthropy in Minneapolis, their full-time home. But the issues they care about affect the people of Park City, too. As part-time residents of Park City, they've partnered with the Community Foundation to access philanthropic advisory services and transform their love for Park City to real results on the ground—on issues such as social justice, mental health care access, early childhood education, and more.
Tom, a Community Foundation board member, and his wife Pat believe that everyone who enjoys Park City should support our nonprofit community which is why they've offered up this challenge grant. They're hoping this opportunity will engage more part-time residents, like themselves, in giving back to the community.
This challenge grant from the Grossmans will double your donation to any of the Community Foundation's initiatives or funds. Gifts of any size are welcome!
You can support the work to solve critical challenges facing our community by making an unrestricted gift. Or, your gift can support other initiatives at Park City Community Foundation, including the Park City Climate Fund, the Social Equity Initiative, Women's Giving Fund, Mental Wellness Alliance, or Early Childhood Alliance.
Our deepest gratitude goes to the Grossmans for caring for our community during this unprecedented time.
"We realize that no matter how perfect Park City seems to be for a week or two, it is a growing group of people with all the needs and problems that any small community has, even if they aren't obvious to part-timers. We spend about 20% of our time in Park City and 20% of our giving is in Park City because this community has given our family so much. Thanks to Park City Community Foundation, we are engaged in giving back. We come to ski and hike, but now we are also part of the community on an intimate level—as volunteers." – Tom Grossman, Park City Community Foundation Board Member
For more information, contact Kitty Northrop Friedman, Vice President of Philanthropy, at kitty@parkcitycf.org or (860) 597-7284.