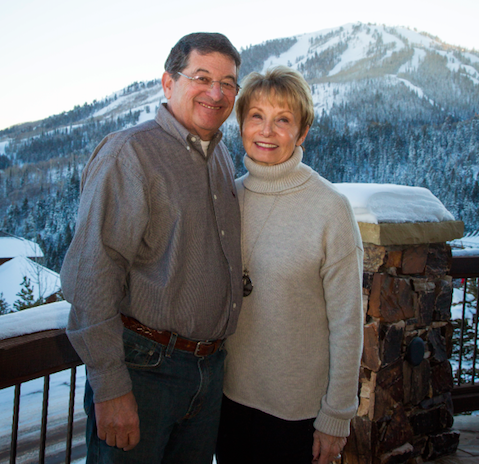 To achieve significant community impact and reach all the people of Park City, the Community Foundation convenes nonprofits, businesses, philanthropists, and government, stewards financial resources, and works community-wide to find enduring solutions. Two people who exemplify our work are Tom and Pat Grossman. Tom and Pat are deeply involved in philanthropy in Minneapolis, their full-time home. But the issues they care about affect the people of Park City, too. That's why they partner with Park City Community Foundation: they use our philanthropic advisory services and our foundational knowledge to transform their love for Park City to real results on the ground—on issues such as social justice, healthcare access, and more.
Q: Tell us about yourselves.
A: We are part-time residents, spending 20% of our time in Park City and the majority in our hometown, Minneapolis. Our entire family gathers here a few times a year, especially the winter holidays and the 4th of July. The traditions we've built in beautiful Park City cause children and grandchildren to plan activities months in advance. We realized it was necessary for us to support the community that has given us so much. Thanks to Park City Community Foundation, we are engaged in giving back to Park City. We still come to ski and hike, but now we are part of the community on an intimate level—as volunteers.
Q: Why do you think Park City is a unique place to live and give?
A: Park City is really a small town that grows with all of us visitors and part-timers. Those who visit briefly see a perfect place that has no problems. But we know it is like every other community. The challenge is to inform those of us who visit here of the needs and how we can help in any way.
Q: How do you fit giving into your lives here?
A: Through Park City Community Foundation, we learn about the passionate nonprofits working to meet community needs; interact with other donors; and volunteer our time and dollars. We believe if you spend a portion of your time in a community, you need to invest a portion of your philanthropy there.
Q: How has your giving changed?
A: In the last ten years, we have significantly increased our philanthropy. We started by giving to one-off programs. As time went on, we realized that giving to the sustainability of organizations is key. Experience has been teaching us and we are in the middle of one of those teachable moments now. Our family's big bet is Alzheimer's research. We built a program at the University of Minnesota and have had many failures in terms of research, but those failures have taught us and the research community important lessons along the way as well. A lesson learned is the importance of a balance of program support and endowment. Operating support gets the work up and running, endowment provides stability and credibility to a program. The combination of the endowment and operating support is truly the lasting gift.
Q: What is it about Park City Community Foundation that you love?
A: We, our children, and our grandchildren love Park City. We came to the Community Foundation looking for a simple way to make an impact in this place that we love. Unlike our hometown, we aren't as familiar with the needs and nonprofits of Park City—Park City Community Foundation serves as our advisors.