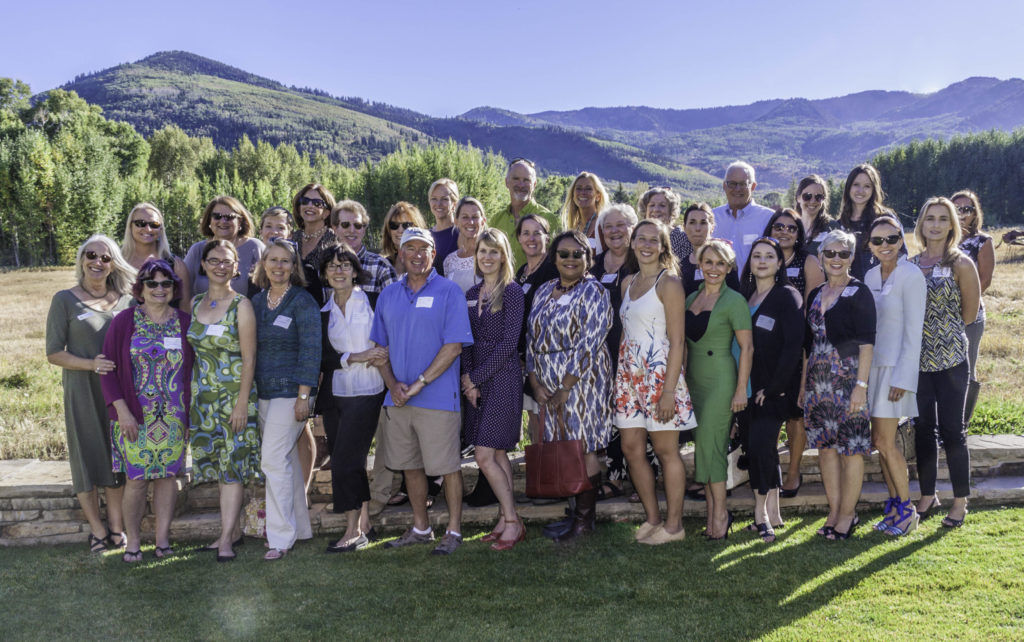 On Thursday, September 8, Park City Community Foundation provided critical support and recognition to 31 local nonprofits, and to one extraordinary individual.
Community Fund grants totaling $115,650 supported 29 high-impact projects, the Women's Giving Fund granted $15,000 to PC Tots, and Susan Richer was recognized with the annual Trisha J. Worthington Community Service Award.
As founding executive director of Park City Community Foundation, and in her current work with the United States Ski and Snowboard Team Foundation, Trisha Worthington has provided an inspiration to all who aspire to better our community. This year, her eponymous award was presented to Susan Richer for her work in founding Community for Children's Justice, a new nonprofit organization dedicated to supporting the critical work of the Summit County Children's Justice Center. The Trisha J. Worthington Community Service Award includes a $500 grant, which has been directed by Richer to Community for Children's Justice.
"Susan has been a tireless advocate for abused children," said Jack Mueller, Park City Community Foundation board chair. "Her dedication embodies the spirit of service that Trisha Worthington has helped instill in our community."
At this year's Women's Giving Fund (WGF) Grant Celebration on July 5, a matching challenge was announced with a goal of raising $20,000 to provide additional support to both the 2016 WGF grantee and last year's WGF grantee. The challenge was met in August through the donations of many generous donors, with $5,000 becoming part of the 2016 annual $30,000 WGF grant that was awarded to Summit County Children's Justice Center in July, and $15,000 dedicated to the 2015 WGF grantee, PC Tots. The grant to PC Tots will support their efforts to provide high quality early childhood education and childcare to low-income families with the greatest need.
The 2016 Community Fund grants were awarded to 29 local organizations. Representatives from each nonprofit shared what the funding will help them to accomplish. The grants will provide healthcare to the uninsured, get middle school students participating in outdoor sports, involve young people in theater, collect hard-to-recycle materials, keep people safe in the snowy backcountry, and much more.
"The heartbeat of this town lies in our nonprofits, who work to meet the community's needs," said Syd Reed, chair of the grants committee. "We are honored to support them in accomplishing their missions."
The Community Fund program is in its ninth year and has granted over $900,000 to nonprofits that serve the greater Park City area. Grants committee members review community needs, conduct site visits, and analyze organizations' financials to gain the community knowledge to make smart grants with big impact.
The foundation serves the local nonprofit community in many ways. As another example, Live PC Give PC (this year scheduled for November 4th) has raised over $4 million since inception, and aims to raise $1.5 million for local nonprofits this year. Donors to Park City Community Foundation make the Community Fund possible; they include Community Pass Club members and partners, people who make gifts of any size, and contributors to the Community Foundation on Live PC Give PC. The most important funding source is the Community Pass Club, a fully transferable ski and golf pass. The Community Pass Club Partners represent a number of wonderful businesses who donate the services to make these grants possible. Learn more at parkcitycf.org/community-pass.
Park City Community Foundation strengthens our community through collaborative giving and action. To learn more about your local community foundation, explore parkcitycf.org or contact Ollie Wilder, Programs Director, at ollie@parkcitycf.org or 435-214-7475.