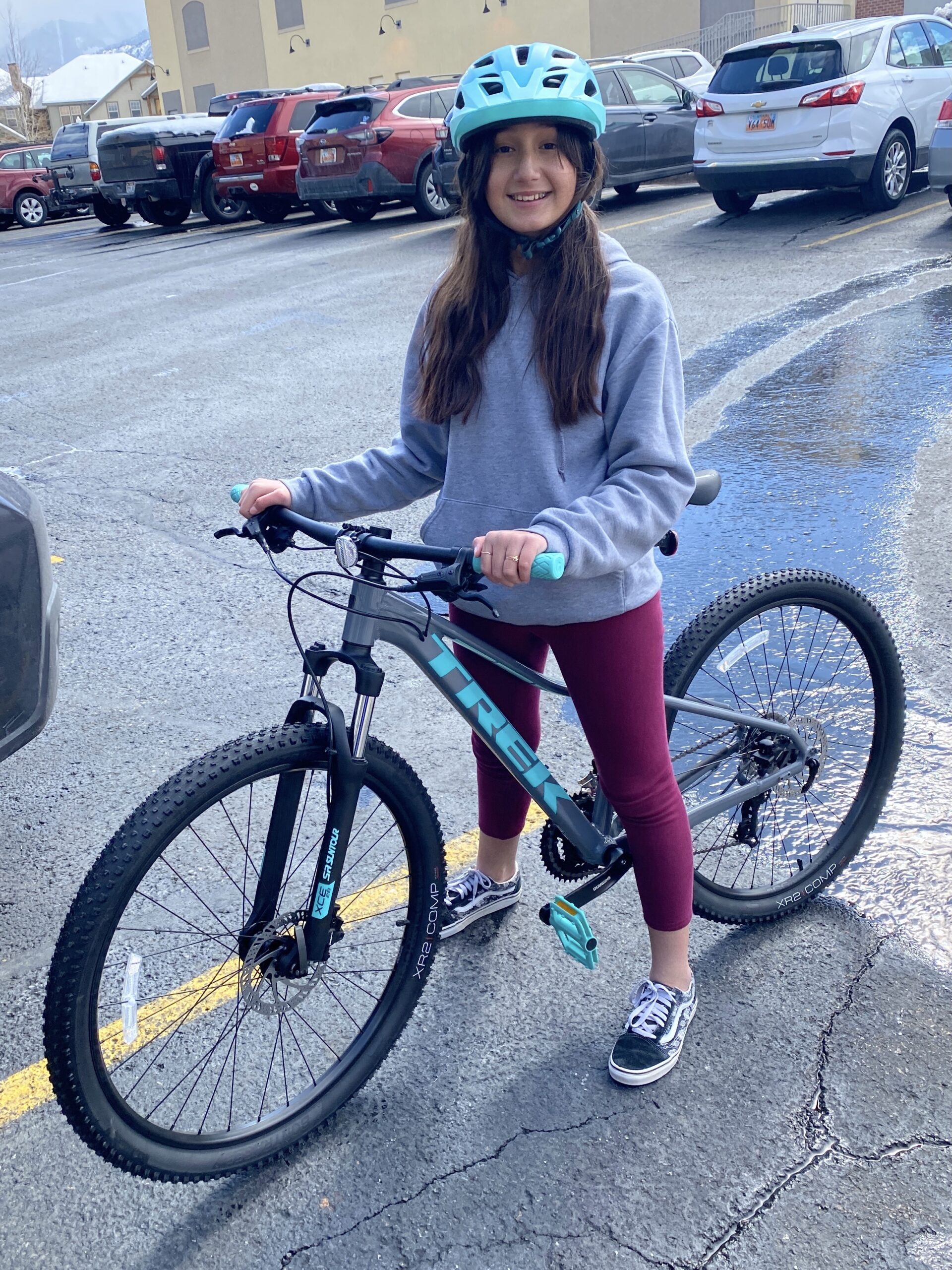 In partnership with Solomon Fund and Storm Cycles, Little Bellas has gotten young Latina girls out on the trails with great gear to support them as they learn a new sport.
The Little Bellas Park City chapter is part of a nationwide program that creates opportunities for girls to enjoy the outdoors through mountain biking. In the process of expanding their love for nature, young girls have the opportunity to stay active, make new friends, and push their limits.
Local 13-year-old Nathalia Hurtado first signed up for Little Bella's in the 4th grade through her connection to the Solomon Fund. She has been participating in the program for the past five years and has been loving every minute of it.
"I wanted to get outside, and mountain biking sounded so interesting to me because where I'm from, we didn't have mountains," said Nathalia. "Thanks to Little Bellas and the Solomon Fund, I got to do all of that with free gear, and enjoy it with new people."
Solomon Fund caught the attention of Nathalia's mother, Anna, through her daughter's school outreach coordinator. Nathalia had participated in sports through  Youth Sports Alliance's Get Out and Play program before, but Anna wanted to see what other activities were out there. Through the recommendation, Anna and Nathalia stopped by a Solomon Fund registration event in the fall of 2017 and immediately saw an opportunity to expand their recreational horizons through the initiative, including participating in Little Bellas.
"Little Bellas caught my attention because it was a program specifically for girls," explained Anna. "I knew Nathalia was going to develop more confidence and make good friends through the program. She has always been very good at sports, and I have always wanted her to have the opportunity to participate in any activity she wants to try and enjoys."
In a single year, Solomon Fund will register around 1,200 kids for sports and recreation activities in Summit County. In 2020 alone, Solomon Fund and their partner organizations provided a total of $367,819 in scholarship funds to kids and families – 29% of those scholarships came directly from Solomon Fund.
Through addressing gear as a barrier, the summer of 2021 has stacked up to be a great year for kids to get on bikes. Thus far, Solomon Fund has distributed $15,600 worth of biking equipment, a total of 20 bikes, and 70 helmets, to Latinx children in Summit County with the support of local businesses like Storm Cycles.
Todd Henneman, a co-founder of Storm Cycles, takes pride in his ability to help support folks in the community that may not be able to afford the products his shop offers. Putting bikes in the hands of folks that help keep the community afloat, he says, is a great way to get people outside to experience all that Park City has to offer. By reaching out to his vendors, Henneman and his team have been able to offer partners like the Solomon Fund discounts through his shop for the past five years.
"A lot of families in our community don't have the opportunity to walk in and buy a $5,000 bike, so they never get a chance to fully experience what's here in Park City, yet they are so essential to the functionality of this community," explained Henneman. "To be able to have groups like Park City Community Foundation and other programs that offer product scholarships so someone can participate is a great way to get people bikes and see trails they would never have the opportunity to see. I love being involved in that."
In addition to the 14 Latina participants of Little Bellas, the equipment has been distributed to YSA's Get Out and Play program, both for their Park City and South Summit programs, and families at Peace House. Additionally, two students on the high school's Park City Mountain Bike Team were connected with new bikes, helmets, and gear through another collaborative effort between the bike team, Storm Cycles, and Park City Community Foundation's new RISE Fund. Through the collective efforts of Park City Community Foundation and a myriad of partner organizations, kids who would otherwise not have access to multiple recreational activities can now get out and play in many unique ways.
"Just because the trails are free does not mean they are accessible," said Community Impact Director, Sarah MacCarthy. "At Park City Community Foundation, our goal to create a more inclusive and equitable place to live and play, and through Solomon Fund's unique position, we can help reach these goals starting with Latinx families with the support of local businesses, nonprofits, and other community organizations in our network."
Nathalia is a quintessential example of a community convening success story. In addition to mountain biking, she has been able to sign up for ice skating, soccer, tennis, swimming, theater, art, cross-country and downhill skiing, and her favorite volleyball, all through the twice-a-year Solomon Fund registration events. All of these options would not be available to many children in our community without the support of amazing partner organizations and local businesses like YSA, SOS Outreach, Storm Cycles, and more. Nathalia's mother notes that Nathalia's athleticism and creativity have gone through the roof since starting these programs, as well as her confidence and compassion for others.
"My mom has always encouraged me to do sports because she knows they are good for me," adds Nathalia. "She used to say 'you can't be lazy, and you can't be on your phone all day, you have to go outside.' She gave me many options, and I had to choose one. I was hesitant at first, but now I love it."
Through convening the community, Park City Community Foundation is creating opportunities for all to thrive in Summit County.
Learn more about the Solomon Fund and its efforts >