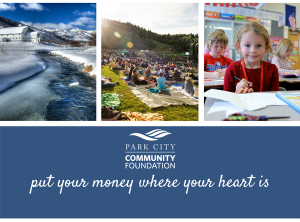 We are a community with heart.
You share your heart through volunteering, putting your arms around those in need and investing in priorities of housing, childcare, healthcare, and access.
Will you include us in your annual giving? Your unrestricted support leads to unrestricted thinking at the Community Foundation. By making a donation, you create college opportunites for low income and minority children and a safe place for children who have been victims of abuse.
Through your kindness today, you keep Summit County strong and join our community of dreamers and doers. As you enjoy all that Park City has to offer, please consider including Park City Community Foundation in this season of giving.
Gratefully,