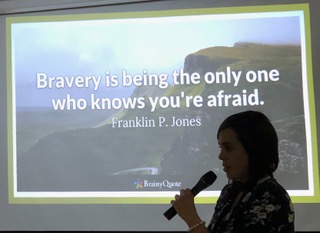 The Women's Giving Fund mentoring program, sponsored by Vail EpicPromise, conducts regular Power Lunches with Ecker Hill Middle School girls to inspire them with meaningful life messages on leadership, success, and confidence. The mentoring program cumulates with a special event at Park City Mountain Resort where girls are matched with mentors for an uplifting afternoon.
On Friday afternoon March 16th, Women's Giving Fund members participated in a one-on-one mentoring event at Park City Mountain Resort.  Twenty-four Women's Giving Fund mentors and twenty-four Ecker Hill girls were matched up by selecting their favorite snacks and then bonded by riding the Alpine Coaster together. Next, the entire group retreated inside for an interactive and inspirational program presented by Anna Frachou called Brave and Bold: A girl's guide to finding her boundaries.  
After Anna gave her background she explained what it means to be brave.  The girls and their mentors talked about specific experiences and did a hands-on activity. They also worked together to make bracelets with meaningful phrases or words about bravery. After outlining the meaning of bravery, the girls, with the help of the mentors, acted out skits that demonstrated to the group boundary crossing scenarios and how they could be resolved.  Anna then elaborated on each challenge and solution emphasizing the need or ability to say "I'm not OK with that".
Everything about the day turned out perfect; the weather, the number of girls and mentors and their engagement, the location, the coaster experience, and the speaker, Anna Frachou was terrific.
Be bold, Be brave, Be you 
Here are some comments about the event from the mentors and girls.
From the Mentors:
Wonderful program, great energy, great tradition.  Anna was a wonderful speaker.
Thank you! Well organized!  Lauren & Anna-Great team
I thought this was a wonderful presentation & I think my mentee and I really bonded!
It is so important for these girls to hear this message!!!
I loved being a part of the event.  I think a 2-hour event was great and loved that you had a multitude of hands on activities
The event was not only beneficial for the girls but for the mentors as well.  It made me realize the positive impact I can have in a young person's life, even if only for a few hours.  I saw the girl I was matched with "light up" simply by my paying special attention to her.
thank you for letting me be a part of it!  It is a hard task to find a program that engages the girls and shares valuable takeaways!  Anna was amazing as well!  What a compelling story.
I haven't done much for a long time that was so rewarding.  Was so glad to be a part of this.  Thanks for everything you all do! Most of all it was lovely to be in a room with all those energetic girls and engaging women. We are so lucky to be in a community full of awesome women.
The afternoon was wonderful and can't wait to do it next year!!
From the Girls:
I loved everything we did
I liked how there were mentors who encouraged us throughout the whole section
Thank you, everything was amazing to inspire us, Thank you
I liked how they included the bracelets and gave us mentors
Fun skits. I liked my mentor Kitty 10/10, recommend her.  She has a cat and two dogs.
Maybe let us do more roller Coaster
Love Life, Pls do it again
This was a lot of fun, I really liked the acting part.  I loved the mentors
I loved the fact that Anna shared about yourself!  And I loved going on the coaster
I loved doing this and hope I can do it next year.
I think everything we did was GREAT.