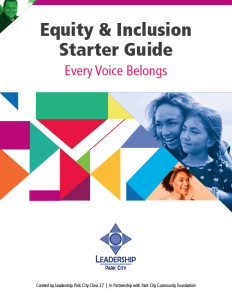 Leadership Park City's Class 27 has created an Equity & Inclusion Starter Guide and the Park City Community Foundation team collaborated with them to make it happen. The Equity & Inclusion Starter Guide is a great way to begin your learning process about why diversity, equity, and inclusion (DEI) are important in our community. The Starter Guide will give you some basic concepts about DEI and is full of resources and questions for reflection.
Leadership Park City is a year-long community leadership program that provides class members a long-term, group-oriented learning opportunity. Many Community Foundation staff members have had the privilege of participating in the program operated by Park City Municipal Corporation. Many thanks to Class 27 for their hard work on this Starter Guide!
If you would like to receive monthly emails from the Community Foundation, please subscribe here.