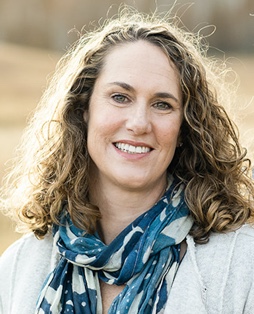 Paige Penze moved to Park City three and a half years ago and has already joined the Women's Giving Fund, attended our Crest Speaker Series events, and recently joined the Community Foundation's Finance and Investment Committee as a volunteer. We feel so lucky to have her expertise, enthusiasm, and generosity in our mountain town. Learn more about Paige's career in finance, her athletic achievements, and her family's transition from the city to the mountains in this interview with Juliana Duran, Development and Communications Specialist at Park City Community Foundation.
Juliana: Our Women's Giving Fund members are looking forward to learning more about you and your journey in the sports and finance world. First, tell us a little bit about yourself?
Paige: I grew up in Columbus, Ohio and Athens, Georgia. After retiring from swimming in 1996, I moved to Austin, Texas to get my MBA at the University of Texas. I started my finance career in New York City and lived there for 18 years before moving to Park City three and half years ago. I've worked in banking for over 22 years in Equity Trading, Treasury Sales, and most recently on the Innovation Team in Corporate Banking.
Juliana: That is incredible, congratulations on all of your success!
Paige: Absolutely, my family has been the real highlight though. Our kids went from being city kids to mountain kids! I have a 14-year-old son at the Winter Sports School and a 12-year-old daughter at Ecker Hill Middle School. They both race on the Park City Ski and Snowboard Alpine Team. While in New York, we would drive four hours to Vermont every weekend to ski. That drive got to be unbearable. My husband moved his company to Park City and has an office on Main Street. I was also able to work locally from an office in Salt Lake City. We are so happy with our decision to move here.
Juliana: What have been some of your favorite things to do around Park City since you moved here? Any favorite restaurants you can recommend to our newcomers?
Paige: We love skiing at PCMR where the kids train but we also love being close to so many other wonderful mountains like Deer Valley, Snowbird, Alta, and Snowbasin. We love to mountain bike, hike, and go to outdoor concerts. We do miss the variety of restaurants in New York, but there are some great restaurants here too. Tupelo is our favorite restaurant downtown. Harvest is also a favorite.
Juliana: Great! How has your experience been getting involved in the Park City community, and what motivates you to get involved?
Paige: I really wanted to get more involved in the Park City Community when I first moved here. I've been so impressed with the work of the Park City Community Foundation, all that is accomplished, and everyone who is involved. There are so many important issues that PCCF is helping to tackle. I love the diversity of New York City. It was great to find that the Solomon Fund is focused on making our community here more inclusive. I wanted to find an opportunity in the nonprofit space where I wouldn't just contribute financially, but where I could also give my time and skill sets. I've enjoyed being on the Finance and Investment Committee.
Juliana: I've read that you've spent some time and have accomplished great things with the U.S. Swimming National Team and their investment committee, tell us a little bit about this incredible experience!
Paige: I swam for the University of Georgia and was on the U.S. Swim Team for about eight years. I had four National Championships and an American Record. I first joined the U.S. Swimming Investment Committee as an athlete representative. I ended up serving on the committee for over 15 years as a committee member or the chair of the committee. It was fun to give back to the sport that gave me so much.
Juliana: Thank you so much Paige for your service and advocacy, see you out on the mountain!