Park City Community Foundation Announces New President and CEO
Passionate Leader Joel Zarrow to Head the Organization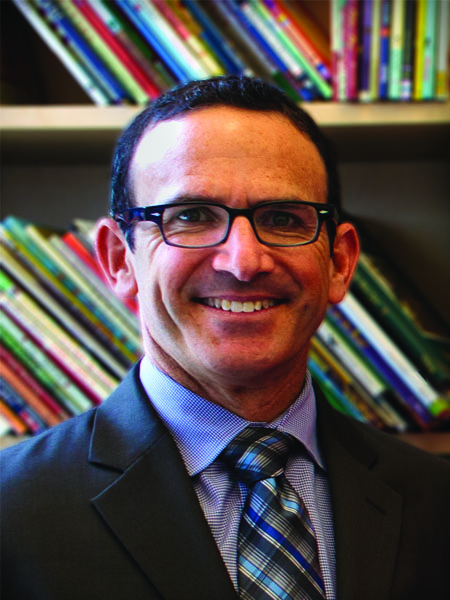 Thursday, April 28, 2022 – Park City, Utah – Park City Community Foundation is proud to announce the appointment of Joel Zarrow, Ph.D. as the organization's new President and CEO. Zarrow brings over 20 years of public, private, and nonprofit expertise, including leadership roles committed to advancing equity in education. He has worked in the nonprofit sector, with government at the federal, state and local levels, in the private sector, and with a broad range of community partners. Zarrow will start his new role on June 13, 2022 and succeeds Joelle Kanshepolsky, who has served as the Interim CEO since July 2021.
"We are thrilled to have a leader of Joel's caliber joining the Community Foundation," said Park City Community Foundation Board Chair Kristi Cumming. "Joel's qualifications and experience are exceptional, but more importantly, his heart and passion for social justice and dedication to the nonprofit community will elevate the work of the Community Foundation to the next level. We believe he is the perfect fit to guide ongoing initiatives and identify and address exciting new philanthropic opportunities for generations to come."
"I am so grateful for this opportunity to work alongside the Board and staff of Park City Community Foundation, building upon their outstanding reputation and advancing the important work happening throughout greater Park City and Summit County," said Joel Zarrow, incoming President and CEO of Park City Community Foundation. "The organization's core values mirror my own:  we share a foundational commitment to listening to and learning alongside the partner organizations and donors we serve. I am thrilled for what lies ahead and look forward to making this area my home for years to come."
Zarrow comes to the Community Foundation from his post as CEO of Children's Literacy Initiative (CLI), the premier national nonprofit providing urban school districts with early literacy coaching and support. Since 2014, Zarrow has grown CLI to a $23 million organization, doubling philanthropic contributions and impacting 76,000 children and 3,000 teachers in six states. Prior to CLI, Zarrow was Senior Advisor to the New Jersey Department of Education, launching and leading the Department's Regional Achievement Centers. Joel has also worked in philanthropy—first for The New World Foundation in New York, then at the Peninsula Community Foundation in the Bay Area. In the private sector, he spent five years as a management consultant in the strategy practice of Gap International, working with global 1000 firms on leadership and performance issues. Zarrow earned his doctorate at Stanford University, has served on several boards, and has presented at national and international conferences with multiple publications to his credit.
Zarrow will continue to support the momentous growth the Community Foundation has had over its 15 years under the outstanding leadership of Joelle Kanshepolsky, Katie Wright, and Trisha Worthington—former leaders who were dedicated to building the organization into a philanthropic center for Summit County. Strong leadership and stability have been a hallmark at the Community Foundation and Zarrow's appointment continues that tradition.
Park City Community Foundation is one of the fastest-growing community foundations in the country and grants a very high percentage of is assets each year — in 2020 it had the twelfth highest distribution rate among community foundations across the nation.* Over 1,200 donors contributed to the Community Foundation last year alone and more than 100 donors hold donor advised funds with the Community Foundation.
Zarrow was selected from a dynamic and multi-stage national search conducted by Kittleman & Associates in partnership with the Community Foundation's search committee, consisting of Board members, former Board members, and staff. He is moving to Park City with his partner Helen and is an avid skier, biker, and hiker.
"The Community Foundation has become a trusted philanthropic institution and Joel joins us at a pivotal time," continued Cumming. "He will be instrumental in advancing our equity and inclusion work and in convening the community around important issues. We are excited to introduce him to our community partners and funders over the summer months."
About Park City Community Foundation – The Community Foundation plays a vital role in solving the most challenging problems in Park City. We care for and invest in our people, place, and culture by bringing together local nonprofits, donors, and community leaders to contribute financial resources and innovative ideas to benefit all the people of Park City—now and in the future. As the home of Live PC Give PC, Women's Giving Fund, Solomon Fund, and other important initiatives, the Community Foundation has generated more than $49.5 million in total impact to the greater Park City community and Summit County since its inception in 2007. Learn more about donating, volunteering, fundraising, and getting involved at parkcitycf.org.
*CF Insights annual survey results for 2020 released in April 2022.
Media Contact: Christine Coleman, Park City Community Foundation, christine@parkcitycf.org, 415-209-8506.