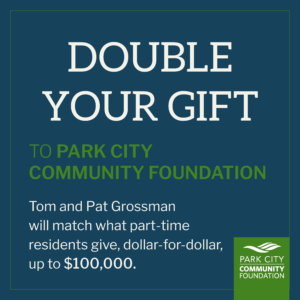 Grossman Match Aims to Deepen Local Engagement from Part-time Residents
Park City loves our part-timers, and Park City Community Foundation is a trusted resource for part-time residents to support the local community. 
Tom and Pat Grossman have generously offered a $100,000 match to part-time residents that will double any new or increased donations to the Community Foundation and its initiatives. The Grossmans are hoping this opportunity will engage more part-time residents, like themselves, in giving back to the community.
"We spend about 20% of our time in Park City and 20% of our giving is in Park City because this community has given our family so much. We come to ski and hike, but now we are also part of the community on an intimate level and can help address local issues thanks to the Community Foundation." – Tom & Pat Grossman
Park City and Summit County are better when we all work together. Your donation goes toward helping solve our community's biggest challenges. Gifts of any size are welcome!
DONATE TO THE FUND OF YOUR CHOICE BY SELECTING FROM THE LIST BELOW:
If you would like to make a gift from your Donor Advised Fund or a gift of stock, or if you have any questions, please contact Kitty Northrop Friedman, Vice President of Philanthropy, at kitty@parkcitycf.org or 860-597-7284.