Park City Community Foundation is proud to welcome four new board members to our team. As of January 1, 2021, Susan Rothman, Enrique Sanchez, Virginia Solomon, and Millicent Tracey have joined forces with continuing board members to bring a wealth of professional knowledge and personal experience to the table, in order to ensure Park City Community Foundation remains a well-governed, fiscally sound, and highly effective organization.
Susan Rothman
Following an entrepreneurial career in the diamond and jewelry industry, Susan and her husband Glenn retired to Park City in 2017 after living in Boston for the majority of their careers. It was only natural for Susan to get involved with Park City Community Foundation. She is a founding member of the Lenny Zakim Fund (LZF) in Boston where she served on the board for 20 years, and her strong background in philanthropy has already led her to serve on the grants committees of Park City Community Foundation's Women's Giving Fund and Community Fund.
Over the years, Susan has been grateful to travel the world for her business, attend culinary school at Boston University, and hold on to friendships far and wide. When she's not hiking, skiing, swimming, or cooking, Susan finds solace on the river flyfishing.
"I'm beyond grateful to be living in the majesty of the mountains with my husband and soulmate, Glenn," said Susan. "We are so very fortunate to have settled in Park City for this next chapter of our lives and to be participating in the amazing community here is truly a gift. I could never have imagined how special our tiny town is and the impact that it has on so many levels. I am honored to now serve on the Community Foundation Board and look forward to making a contribution to this impactful organization that serves the greater Park City area. This opportunity to make a difference is truly a blessing."

Enrique Sanchez
"Junior" Enrique Sanchez is currently a senior at the University of Utah, where he studies Political Science. Right now he's in Washington D.C. as he works to complete an internship with Ibarra Strategy Group. When in Park City, Enrique works as a Community Specialist with the Park City Police Department and Park City Municipal Corporation. He is a board member of the Park City Ute Conference and is an alumnus of the Park City Leadership Class of '24. Prior to making strides in the Park City leadership realm, Enrique spent time in Courchevel, France as part of a foreign exchange program with Park City's sister city. There he solidified his knowledge of the French language after six years of study in his youth.
As a proud DACA recipient and activist, Enrique is excited to bring his perspective as a Park City-raised Latinx immigrant to the table. His experience working with Ninos on Skis (where he learned how to ski at age 8), was his first introduction to the work of Park City Community Foundation.
"I am excited to be able to provide my unique experience as a Latinx immigrant growing up in our great community," said Enrique. "We are your neighbors, coworkers, friends. I am passionate about equity and human rights for all minority groups, and am excited to be a part of the table and be able to voice my opinions that I believe will work for all our community members."

Virginia Solomon
Virginia Solomon is the quintessence of a teacher. They teach art history (with a focus on the intersection of art, popular culture, and social justice) and work in student programs management at the University of Utah, and they coach mountain biking. They are actively involved in Park City Community Foundation's Social Equity Initiative and also recently joined the Community Response Fund Grant Committee, bringing their experience in grant writing, development, and organization management to the table via past work with USA Cycling. In addition to all of their great work in the diversity, equity, and inclusion space, Virginia is invested in environmental causes, animal welfare, and structural inequality.
"I am so excited to be able to contribute to making this place that I love a better place for all," said Virginia. "Also, my wife and I own a yoga studio called PC Yoga Collective. We look forward to seeing you all there!"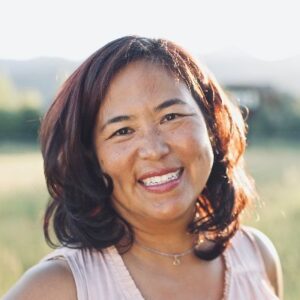 Millicent Tracey
Millicent Tracey's professional background is in fintech and financial services. She spent 19 years at Wells Fargo working in online banking for business and building digital payment platforms like Zelle. Prior to her time in the financial industry, she spent a short time working as an attorney and tax consultant for hedge funds. Nowadays, Millicent can be found working closely with her favorite nonprofits – Park City Community Foundation, Mountain Town Music, Kids Play International, Communities That Care, and Park City Angels. Millicent is passionate about developing girls into strong, educated, confident, and mentally healthy adults and believes wholeheartedly in the saying, "educate girls and save the world." Maybe that's why Millicent offers up her time to advise several female-founded start-ups. She also loves indulging in music and film and is currently an executive producer of the documentary, Bias, which explores unconscious bias in the workplace.
"I've been a huge supporter of Park City Community Foundation for some time, supporting many of its nonprofits since we've been here for the last 11 years," said Millicent. "I joined the Development Committee a few years ago, and then after I left Wells Fargo was able to dedicate more time, so am so excited to be a board member to help drive and execute the Community Foundation's mission around people, place, and culture. Park City is evolving very quickly and it's exciting to be part of an organization that can have an impact on how Park City evolves."
Learn more about the professional careers of each of our new board members here.