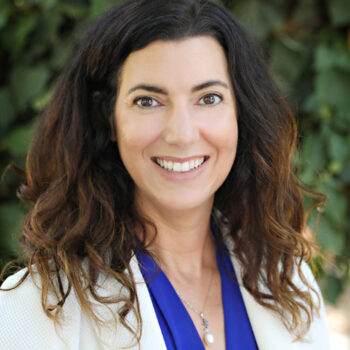 July 1, 2021 – Park City, UT – Park City Community Foundation is pleased to announce the appointment of long-time nonprofit executive, Joelle Kanshepolsky, as Interim CEO by its board and leadership. She replaces former Executive Director, Katie Wright, and will begin serving in the role on July 12.
Joelle Kanshepolsky is a highly successful fundraiser, consultant, change-maker and inspiring executive leader with 25 years of professional nonprofit experience. As a consultant with Pathway Associates supporting local nonprofits, she has recently served as Interim National Director of Philanthropy at Conservation Legacy, Interim Development Director at The Refuge Utah, and Interim CEO at The Children's Center. She specializes in nonprofit resource development, communications, facilitation, strategy development, capacity building, governance and board relations, and executive search/transitions.
Kanshepolsky knows Park City well and has had many clients in the Park City area and Salt Lake Valley, including National Ability Center, Nuzzles & Co, Live Like Sam, The Speedy Foundation, Utah Pride Center, and others. She currently serves as Vice President of the Board for Women of the World, on the Board of The McGillis School, and formerly as the Vice President of the Board of Jewish Family Service of Utah. She has a Master Degree from the Heller School of Management at Brandeis University.
"Joelle's experience and skills will be invaluable to the Community Foundation as we continue to partner with donors, support nonprofits, grow community initiatives, and ensure the future of Park City," says Kristi Cumming, Chair of the Board of Park City Community Foundation.
Kanshepolsky will continue to support the momentous growth the Community Foundation has had over its 14 years under the outstanding leadership of Katie Wright and Trisha Worthington—former Executive Directors who were both dedicated to building the organization into a philanthropic powerhouse for Summit County. Strong leadership and stability have been a hallmark at the Community Foundation and Kanshepolsky's appointment continues that tradition.
The Community Foundation has generated more than $43.8 million in total impact and is committed to its important role of solving Park City's toughest challenges by bringing together generous donors, nonprofit experts, and community leaders to benefit all the people of greater Park City.
As Interim CEO, Kanshepolsky will report to the Board, and will work part-time with a focus on key issues the community is facing, leading operations, and conducting strategic planning for 2022.
The Community Foundation's Board began a national search for the new CEO and President last December and believes it is critically important to take the time needed to find the right person for this important job. Cumming says, "With the addition of Joelle, we're fortunate to have a phenomenal team in place that allows us to extend our search until we find a permanent CEO who has the required executive and philanthropic experience and deeply understands the unique community needs and local culture of Park City and Summit County."
The Community Foundation plans to continue its CEO search after a hiatus. The Board of Directors and staff will spend the summer focusing on several key programs for the community, including Women's Giving Fund, Park City Climate Fund, Early Childhood and Mental Wellness Alliances, Community Fund grantmaking, and preparing for Live PC Give PC, the annual giving day.
The Community Foundation is confident that a permanent CEO will be hired in the coming year to carry on the great work accomplished by the staff and the organization. Cumming continued, "All current CEO applicants are encouraged to keep their hat in the ring and we will re-consider their applications when the Search Committee reconvenes in the future."
"I am excited to lead Park City Community Foundation," said Kanshepolsky. "I look forward to working closely with the staff and board to strengthen the organization so that we can further benefit all the people of Park City. This is a great honor and I appreciate the opportunity to serve Park City and Summit County."
About Park City Community Foundation: Park City Community Foundation plays a vital role in solving the most challenging problems in Park City. We care for and invest in our people, place, and culture by bringing together local nonprofits, donors, and community leaders to contribute financial resources and innovative ideas to benefit all the people of Park City—now and in the future. As the home of Live PC Give PC, Women's Giving Fund, Solomon Fund, and other important initiatives, the Community Foundation has brought millions of dollars to the greater Park City community and Summit County. Learn more about donating, volunteering, fundraising and getting involved at parkcitycf.org.
Media Contact: Christine Coleman, Park City Community Foundation, christine@parkcitycf.org, 415-209-8506.